Curriculum and Instruction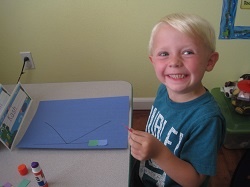 Our main goal is to prepare our students both socially and academically for kindergarten. We utilize a variety of educational resources
to introduce and teach our students what they need to know in order to be prepared for kindergarten. We are a positive learning
environment that is both structured and fun! Most importantly, we want to instill in our students a LOVE for learning that they will take
with them well beyond preschool!!!
The curriculum provides a strong instructional emphasis in Oral Language Development, Print/Book Awareness, Phonological and Phonemic
Awareness, Sounds and Letters, Handwriting, Counting, 1:1 correspondence, Number Sense, Color, and Shapes.
We assess our students 3 times during the school year. These assessments are no pressure for the students and for informational purposes only!
We use these assessments to drive our instruction. It gives us an idea of what each individual child knows coming into preschool and helps us to measure growth and individual progress throughout the year. We give the exact same assessment each time and provide parents with a copy. The first assessment will be given during the first two weeks of school. The second will be given in November and the third will be given at the end of February, right before the local school districts make appointments for Kindergarten enrollment.
If you would like to learn more about what a typical school day at Leap Ahead looks like, we would be more than happy to schedule a tour with you and tell you all about it!
Here is a snapshot of some of the skills that we focus on throughout the school year:
3yr Old Class..."TADPOLES"
Sorting and Grouping

Following 2-3 step directions

Day to day classroom routines

Cutting

Listening and Speaking Skills

Literature Appreciation

Letter Recognition

Beginning handwriting skills (grip, tracing...)

Self-help skills

Counting

Number Recognition

Geometry

Cooperative Play

Gross and Fine Motor skills development
Sorting and Grouping

Following 2-3 step directions

Day to day classroom routines

Cutting

Listening and Speaking Skills

Literature Appreciation

Letters and Sounds

Handwriting

Self-help skills

Counting and 1:1 Correspondence

Number Recognition

Geometry

Cooperative Play

Gross and Fine Motor skills development